Wood Shell Cases
A traditional wooden case is the strongest, most protective, and most durable home for your violin. Wooden cases are solid and crush resistant. They have good humidity control and come in a variety of shapes and sizes for different needs. And, they are relatively inexpensive, compared to high-end composite.
A Curated Selection
The only way to truly determine the quality of a violin case is experience. After all, a quality zipper looks pretty much like a cheap one. At J.S. Fisher Violins, we've been selling violin cases for over 15 years, and offer a curated selection of those cases that have stood the test of time. Cases that have issues, complaints, or frequent warranty claims, we remove. What's left is a selection of the best built, most reliable, and highest-quality cases on the market. If you would like help finding just the right case for your needs, please don't hesitate to contact us, for advice. That's why we're here!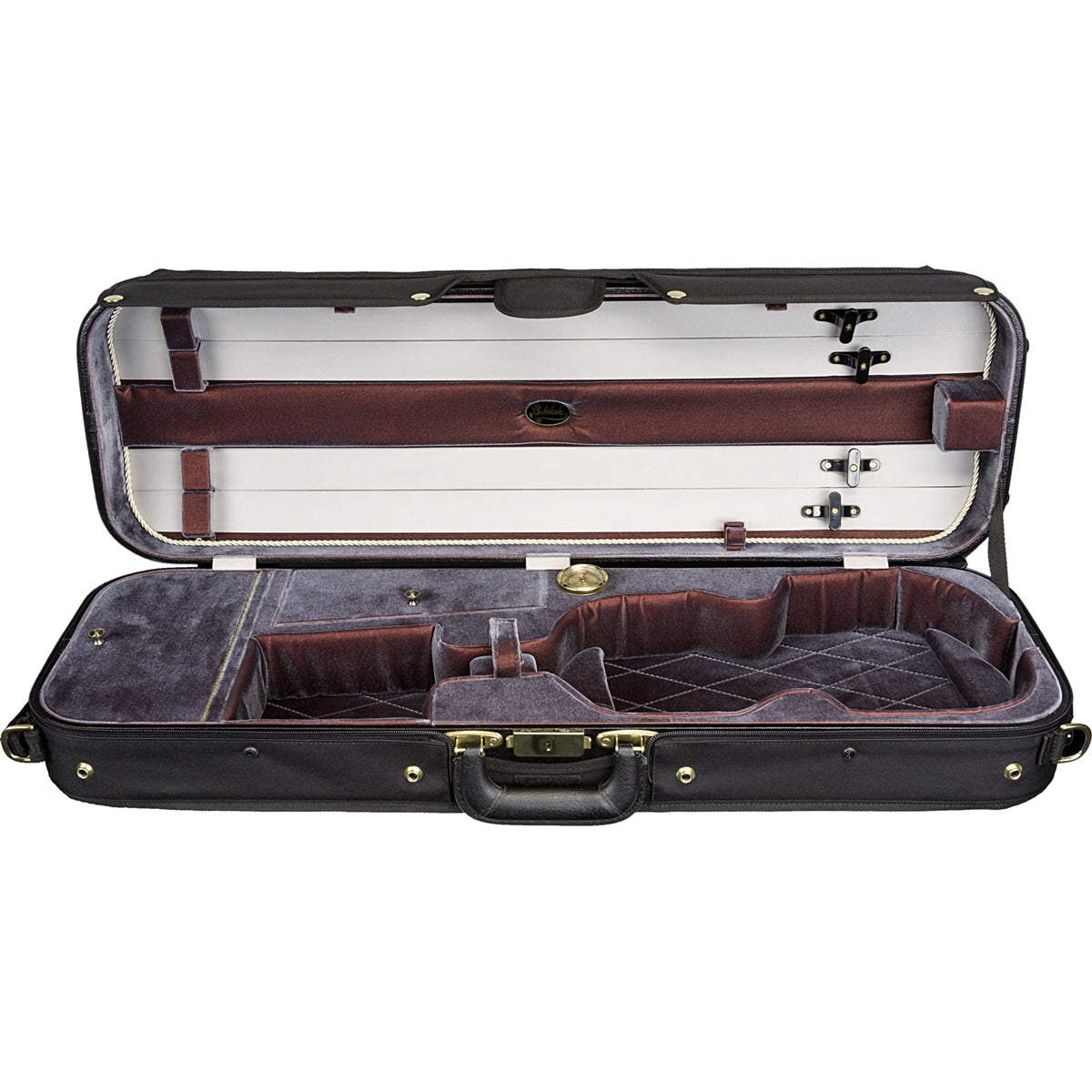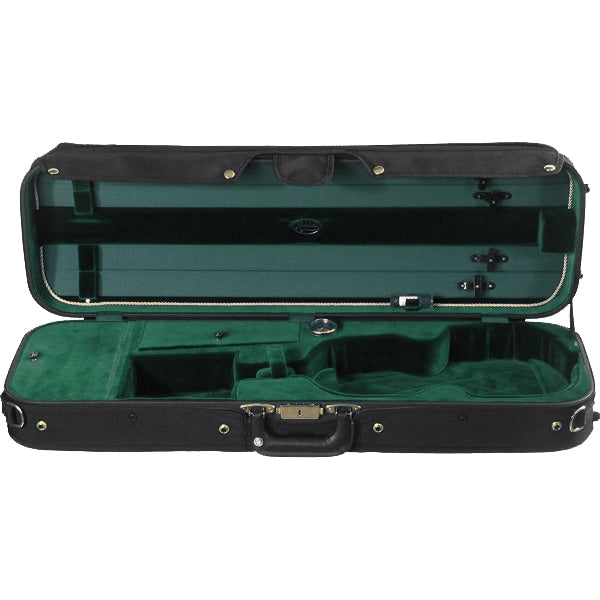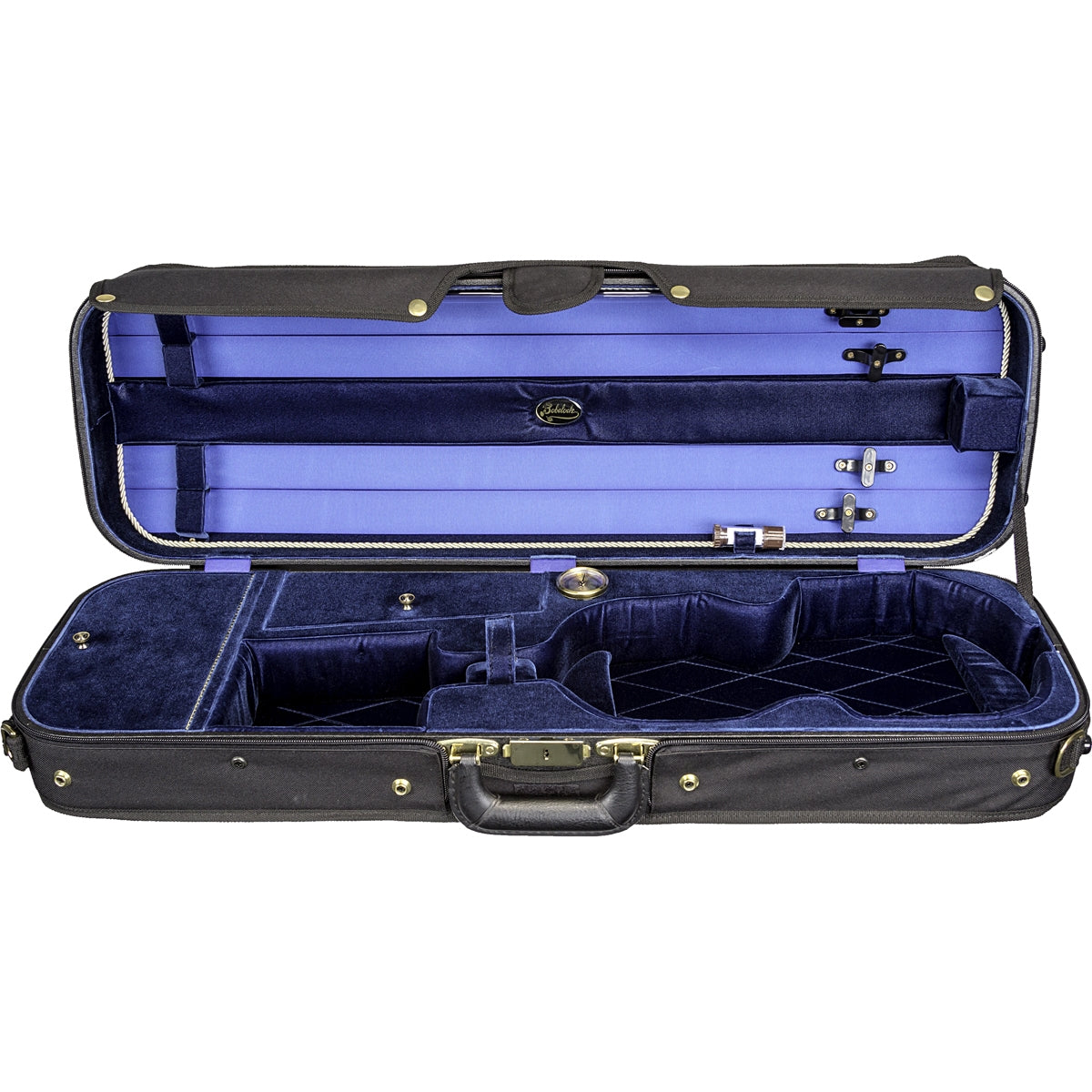 Our Favorite Violin Case!
Bobelock 1051 Corregidor Violin Case
Regular price
$422.45
Sale price
$380.21
Unit price
per
Sale
Sold out
Share
View full details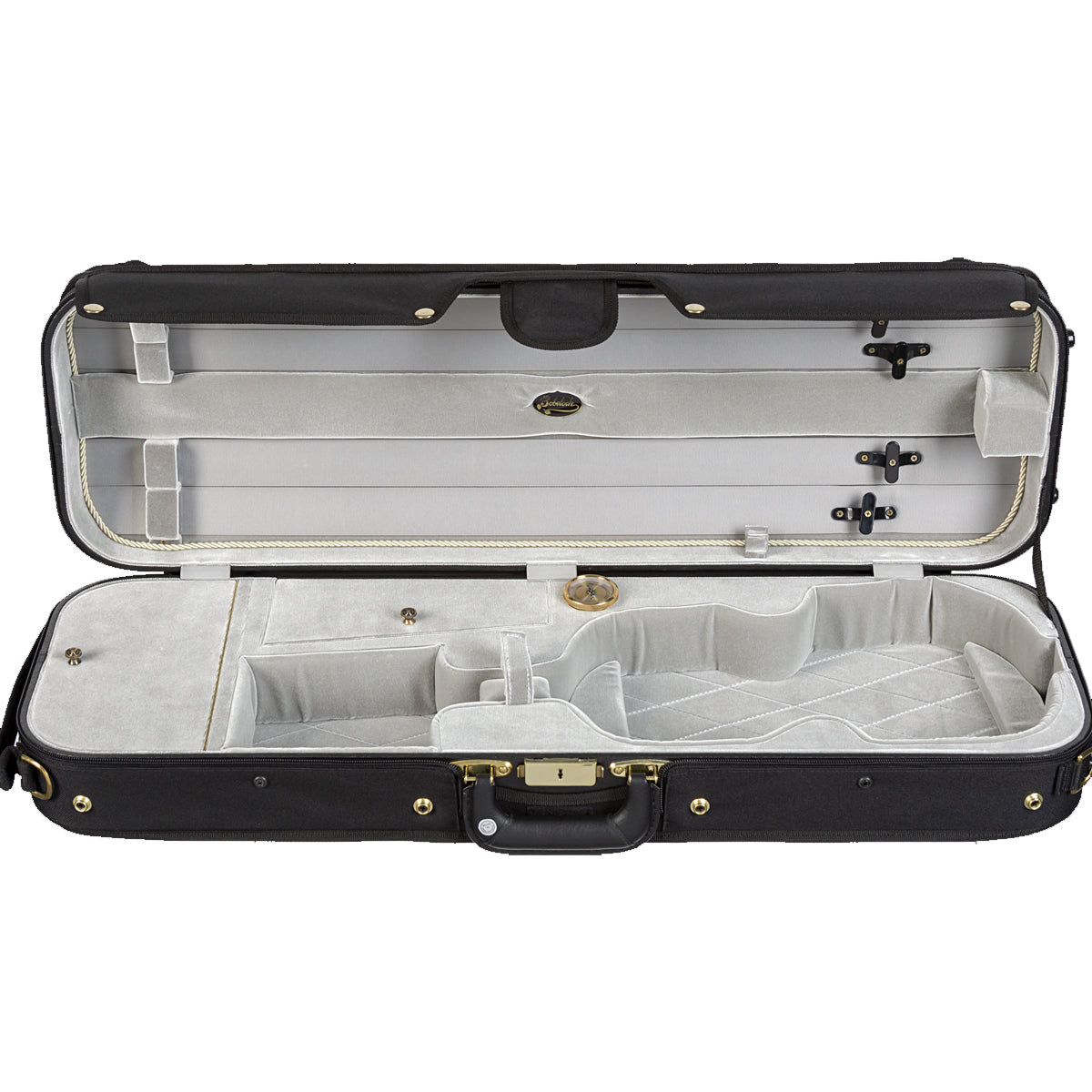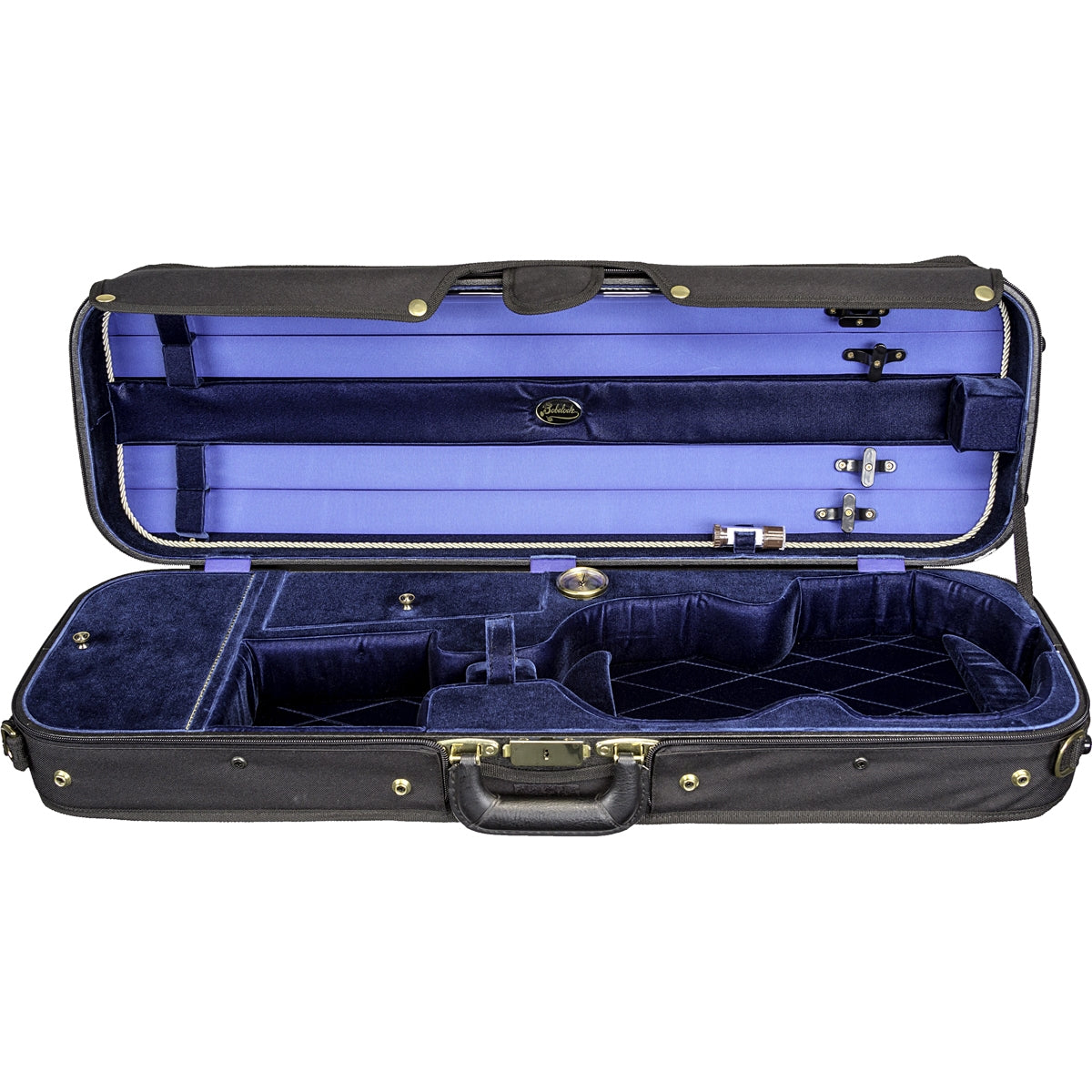 Fiberglass Violin Cases
For the player who wants a more colorful, stand-out case, Bobelock's fiberglass shells are wonderful. Weight and overall level of protection are comparable to Bobelock's wooden cases. All come with a protective scratch cover that can easily be removed and slipped back on when needed. Available in a dizzying array of colors.
Composite Violin Cases
If you need a highly-protective case for you high-end instrument, but you also need the case to be lightweight, then a composite case is for you. Composite shell cases are more difficult and expensive to make than wood. Be cautious and avoid cheap knock-off cases. This is an area where you don't want to stint on quality, as these cases are difficult to make well, and cheap generic composite cases tend to fall apart quickly. Although there are many composite cases on the market, the only line we currently endorse is from Bam France. Bam makes consistently high-quality, well-constructed cases, for professionals.
Regular price

Sale price

$1,154.00

Unit price

per

Regular price

Sale price

$1,154.00

Unit price

per

Regular price

Sale price

$756.00

Unit price

per
Violin Cases for Students
Students have a bit of a dilemma when it comes to selecting a case. Taking their instruments back and forth to school, they need a great deal of protection. But, they also frequently seek a lightweight case that's easy to carry. Students often need space for music, shoulder rest, and accessories, but want a case with a small profile. They often want something colorful, but may have a very small budget.
If your student is playing an inexpensive instrument, a featherlite case will provide room for accessories in a lightweight case, with a variety of color options. But, these cases have limited protection.
For more expensive instruments, a shaped wooden case will provide excellent lightweight protection, at a low cost, with color options, but with no room for accessories.
If you're seeking a good balance of size, weight, price, and color options, we'd recommend the Bobelock Wooden Half Moon case. The fiberglass verion of this case can also be excellent, but can get cracked if banged around too much.
Instrument Protection
Selecting a case with a strong shell is important to avoid the instrument being crushed if the case is dropped, and to prevent anything from penetrating the shell and damaging the violin. A good multi-layer plywood shell is best, but fiberglass and composite shells can also be very protective, if well made.
No matter how strong the shell may be, if the violin is not well secured and padded within the shell, it could come loose and get knocked around within the case. Or external shocks could vibrate through the hard shell and damage the instrument within. A case with full suspension will have foam pieces separating the back of the violin from the shell. The padding above and around the instrument is also important and must prevent the violin from hitting the lid and sides of the case. A velcro or string tie is usually provided to secure the neck. Be sure any accessories are secured and that there is a secure place to stow your shoulder rest, if you use one. A blanket or instrument bag is also recommended to protect the violin from a falling bow, should a bow holder fail, and to prevent rosin from falling from the bows onto the violin.
Generally, better quality cases will provide better quality latches and zippers (ensuring the case stays closed), bow holders/spinners (ensuring the bow doesn't fall and damage the violin), and thicker and better quality suspension and padding. However, take note that better quality doesn't always mean higher prices. See Curated Selection, at the top of this page.
Be particularly cautious about quality when selecting a composite case. There are many different types of composites with widely varying strengths. If done poorly, a composite case can be little better than a foam case. Bam makes excellent quality composite cases, with strong shells, good thermal insulation, and good shock absorption. If considering a generic brand, buyer beware.
Durability
Next to protectiveness, durability of a case is usually next on the shopper's list. A good case is not an insignificant investment, and you want to ensure that the case you're buying will last. Unfortunately, there is no way to know how durable a case will be just by looking at it. And, the price is not always a good indicator. (Over the years, we've seen some very high-end cases fall apart in short-order.) All of the cases we offer are well designed and built to last. If you're seeking the most durable case possible, we'd recommend a wooden case.